History Lesson 7: Issues of Asylum in the U.S.
---
Please register to download a PDFs of this resource
---
Overview:
This lesson looks at issues of U.S. asylum. It covers U.S. and international law on asylum and the difference between refugees and asylees, the debate over asylum reform, and the controversial cases of Walter Polovchak and Elian Gonzalez. In the activity, students decide whether to grant asylum for particular refugees.
Objectives:
Students will be able to:
Distinguish between asylum and refugee status.
Explain the reasons for asylum reform and evaluate its results.
Express a reasoned opinion on the cases of Walter Polovchak and Elian Gonzalez.
Evaluate individual cases to determine whether they meet the legal criteria for asylum.
Standards Addressed:
National U.S. History Standard 31: Understands economic, social, and cultural developments in the contemporary United States. II (2) Understands the factors that prompted new immigration in contemporary American society (e.g., new immigration policies after 1965, areas of the world from which most immigrants have come).
California History-Social Science Standard 11.11: Students analyze the major social problems and domestic policy issues in contemporary American society. (1) Discuss the reasons for the nation's changing immigration policy, with emphasis on how the Immigration Act of 1965 and successor acts have transformed American society.
Issues of Asylum in the U.S.
A year ago, Mustafa Kart, a member of the minority Kurds who lived in Turkey, flew into San Francisco on a tourist visa. A political activist in Turkey, he had spoken out demanding the right of Kurds to keep their language and culture. When some Turks labeled him a traitor, he feared for his safety. "I got scared that if I continued to express my feelings that I would be called a terrorist sympathizer." When he arrived in San Francisco, he asked for asylum.
Kart is one of thousands of people who each year reach the United States and apply for asylum. Asylum seekers must meet the same requirements as refugees. According to international and U.S. law, they must demonstrate "a well-founded fear of being persecuted for reasons of race, religion, nationality, membership of a particular social group or political opinion."
The only difference between refugee status and asylum status is the location where the person makes the application. Refugees outside the country apply for refugee status. Those already inside the United States apply for asylum. Under current U.S. law, those who manage to reach American soil and claim asylum will not be deported until their case has been considered. This is true even if they enter illegally.
An asylum officer interviews a person applying for asylum. If the officer believes the person meets the requirements for asylum, asylum is granted. If the officer denies asylum, the case goes before an immigration judge, who can grant or deny asylum. If the person loses again, the case can be appealed. If the person loses on appeal, he or she will be deported.
Asylum cases account for a small percentage of immigration into the United States. About 15 million people have legally immigrated to the United States in the past three decades. In contrast, from 1973 to 2002, about 1.5 million people filed for asylum in the United States. About 200,000 of them were granted asylum in this 30-year period. Despite these relatively low numbers, asylum cases have often stirred controversy.
The ABC Case
In the 1980s, some religious and other activist groups criticized U.S. asylum practice toward Central American refugees. They complained that the Reagan administration was routinely denying asylum to refugees from war-ravaged El Salvador and Guatemala, but granting asylum requests to those from Nicaragua. The only difference between the refugee groups, they claimed, was that the government of Nicaragua was then under communist control. The Reagan administration responded that most of the refugees from El Salvador and Guatemala were coming to the United States for economic reasons and not fleeing persecution.
In 1985, the activists filed in federal court a class-action lawsuit, American Baptist Churches v. Thornburgh. A class action lets one or more persons file a suit on behalf of a larger group (known as a "class"). In this case, the larger group was all Salvadorans and Guatemalans in the United States before 1985. In 1991, the suit was settled. All members of the class got the right to apply once again for asylum, the right not to be detained in custody (unless they break the law), and the right to get a job while their cases were pending.
Golden Venture
In the 1990s, complaints arose that some immigrants were using the asylum process to bypass normal immigration procedures. One incident in particular brought this issue to the attention of the American public.
Early in June 1993, an old freighter named the Golden Venture ran aground off a New York beach. On board, the U.S. Coast Guard discovered 200 Chinese who were being smuggled into the United States. Some of these unfortunate travelers had paid thousands of dollars apiece to smugglers (called "snakeheads" by the Chinese). Others had agreed to work off their passage fees as indentured servants in New York City's Chinatown.
When the Golden Venture grounded, some of these illegal immigrants panicked and tried to swim ashore. Ten died from drowning or hypothermia. The Coast Guard took the rest into custody. Many of the Golden Venture's passengers applied for asylum.
While most asylum seekers reached the United States by boat, motor vehicle, or even on foot, an increasing number have flown into the country aboard commercial airliners. These "jet people" often paid a smuggler as much as $30,000 for an airline ticket and a phony passport. When "jet people" landed, they were stopped by U.S. customs, but they could claim asylum.
New York's John F. Kennedy International Airport was the "jet people's" preferred port of entry. In 1992, nearly 10,000 "excludable aliens" requested asylum at JFK. All but a handful arrived carrying false papers or no travel documents at all.
Given the number of asylum seekers at JFK, immigration officials had little choice but to give each alien a work permit and a hearing date. A significant percentage of these newcomers vanished into the underground economy and were never seen again by immigration officers.
For those who pursued their asylum claims, the approval process took months or even years. The process could be slow and tedious. By the end of 1994, 425,000 asylum cases were in backlog. The system was in crisis, and the nation began to clamor for asylum reform.
Asylum Reform
Starting in 1995, Congress enacted several reforms. One piece of legislation doubled the number of asylum officers and increased the number of asylum judges. Additional legislation mandated that asylum applicants without legal status whose applications are not approved must be referred directly to immigration court. Whereas employment authorization used to be provided immediately, it is now provided 150 days after the date of filing for asylum or after asylum has been granted. Congress also passed legislation adding gender-based persecution to the list of claims qualifying for an asylum hearing.
In 1996, Congress passed the Illegal Immigration Reform and Immigrant Responsibility Act. Under this act, those who do not file asylum applications within one year after entering the United States forfeit the right to have their asylum claims heard. In addition, the law creates an "expedited removal" process. Immigration inspectors at airports and borders now have the power to order the deportation of anyone trying to enter the United States without proper documents. Any person subject to "expedited removal" who claims asylum must be held in custody.
The reforms have helped clear the backlog of asylum cases. People seeking asylum no longer wait for years to get their cases resolved. About 80 percent of all cases are now resolved within 60 days. Those who do not get approved are sent to removal proceedings. In 1995 (before the reforms), almost 150,000 people applied for asylum. About 60,000 cases were decided, and only 20 percent were approved. In 2002, only about 60,000 people applied, but 52,000 cases were decided, and 36 percent were approved. The result seems to be fewer frivolous claims filed, more cases decided, and more people granted asylum.
Critics of these legislative reforms grant that they are more efficient. But the critics say that they are causing great injustices. They cite cases of people clearly eligible for asylum, but who have been returned to their homelands under expedited removal. They recount stories of victims fleeing from horrible regimes who have ended up being in custody for more than a year waiting for asylum. They tell of victims denied asylum for not coming forward within the one-year deadline because they were too traumatized or afraid for relatives still in their homeland.
Supporters of the reform respond that expedited removal, detention, and the one-year filing limit are fair. They point out that asylum officers carefully screen anyone set for expedited removal and inform them of their right to ask for asylum. They argue that detention is difficult but necessary to prevent an influx of illegal immigrants from claiming asylum. As for the one-year limit, they note that the immigration service can grant waivers in extraordinary circumstances.
Since the terrorist attacks of September 11, the federal government has adopted the policy of detaining more asylum seekers until their cases are decided. It has particularly focused on detaining those who come from countries with active terrorist organizations.
Walter and Elian
Sometimes individual asylum cases have stirred great controversy. Probably the two cases that drew the most media attention involved children from communist countries. One case began in 1980. The other case was quite recent.
Walter Polovchak, age 12, emigrated from the Soviet Union to Chicago with his parents, a brother, and a sister early in 1980. Six months later, Walter's parents decided to return to the USSR. His father said that Chicago was too noisy, the air was too polluted, and the weather was bad. Learning that their parents planned to go back to Russia, Walter and his older sister, 18, ran away from home. They went to live with a cousin and applied for political asylum. Walter said, "I would rather never again see my parents than to leave Chicago. I want to stay here." The seventh-grade boy explained, "I have new friends, a nice school, a bicycle I fixed myself, and I don't want to be sent back. Here is better than my country." The parents recognized that the sister was an adult and gave up trying to get her to return home. But they went to Chicago juvenile court for a hearing on Walter. Walter's father charged that government authorities were "kidnapping my boy." A few days later, the U.S. Immigration and Naturalization Service (INS) granted asylum to Walter and his sister.
Walter's mother told the Chicago Tribune, "You mean a government is telling a mother what to do with her son? That's ridiculous!"
Walter's father asked, "Am I a drunkard? Do I starve my children? Have I broken laws? I have not. So who is the government to take my child?" The parents left for the Soviet Union, but hired a lawyer to get their son back. An Illinois trial court refused to turn him over to the parents and made him a ward of the court. An appeals court reversed the decision, ruling in favor of the parents. The State Department intervened and issued an order saying it was in the national interest that Walter not leave. The parents took the case to federal court. Delays caused the trial not to be held until Walter was almost 18. The court found in favor of the parents, but the government appealed again. The parents won again. But by this time, Walter was 18, and he was allowed to stay.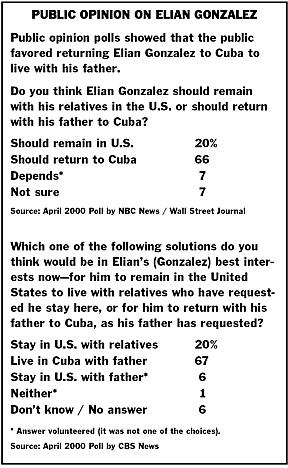 The outcome was far different for Elian Gonzalez. Late in 1999, fishermen found Elian, age 6, floating in an inner tube off the coast of Florida. His mother and 11 others had drowned trying to escape from Cuba in a small boat.
After a brief hospital stay, Elian was taken in by his uncle and other relatives in Miami. They requested asylum for Elian. Elian's father, who was divorced from Elian's mother and had not known about the mother's plan to escape, asked for Elian to be returned to his home in Cuba.
INS officials agreed that Elian belonged with his father. The uncle responded by getting emergency custody of Elian from a Florida court. Attorney General Janet Reno stated that the court lacked jurisdiction. The uncle filed a lawsuit in federal court asking for an asylum hearing for Elian. When the judge dismissed the case, the uncle appealed. The appeals court ordered that Elian not be returned to Cuba before it ruled on the appeal.
In the meantime, Elian's father arrived from Cuba and the attorney general stated that Elian would be returned to him. Federal officials tried to negotiate with the Miami relatives to turn over Elian, but the relatives refused. A large crowd gathered around the uncle's house to keep federal agents away. Before dawn on April 22, 2000, armed federal marshals raided the house and took Elian into custody. Photographers staying in the house took pictures of the raid, which appeared in newspapers across the nation.
Federal officials returned Elian to his father, who was living in a home in Ohio waiting for the court to rule. In June, the appeals court ruled against the asylum hearing. The court held that only Elian's father-not his relatives-had the right to request such a hearing. The relatives appealed to the Supreme Court. When the court refused to hear the case, Elian's father took Elian home to Cuba.
For Discussion and Writing
What is difference between asylum and refugee status in the United States?
Both U.S. law and international law obligate the United States to admit refugees who qualify for asylum. Do you think this law is reasonable? Why or why not?
How in the past have some people from foreign lands abused U.S. asylum procedures in order to gain entry into the country?
Do you think asylum reform has been a success? Why or why not?
How do you account for the different outcomes in the cases of Walter Polovchak and Elian Gonzalez? Which outcome do you think was correct? Why?
Activity
Who Should Get Asylum?
As a practical matter, most asylum claims are decided by the U.S. Board of Immigration Appeals. The members of this board look at the facts of a case and then decide whether an individual qualifies as a refugee with "a well-founded fear of being persecuted" for reasons of race, religion, nationality, membership of a particular social group, gender, or political opinion. Notice that poverty or lack of economic opportunity does not qualify a refugee for asylum.
In this activity, students role play the Board of Immigration Appeals and decide individual cases of asylum.
Divide the class into five groups.
Assign each group one of the five cases below.
Each group should assume the role of the Board of Immigration. The group should decide whether the individual qualifies for asylum according to the legal standard quoted above. If the person does not qualify for asylum, the individual will be returned to his or her home country.
After the groups decide, have them report back to the class. The class should hold a discussion on each case and vote on whether to grant or deny asylum.

Case # 1: Liu Jiang
Liu Jiang, age 22, marital status single, was one of several hundred undocumented Chinese refugees discovered aboard three smuggling ships. Liu, a farmer's youngest son, came from one of the poorest regions in China. Without permission from authorities, he moved to the capital, Beijing, to seek a living. Liu claims that in Beijing communist authorities harassed him because he was a Christian. During the three-month voyage to America, Liu complained of further harassment when his fellow passengers threw his Bible and crucifix into the sea. Liu was taken to an immigration detention center in California where he applied for asylum.

Case # 2: Gregorio Medina
Gregorio Medina fled Columbia after the military, in a clash with guerrillas, launched rockets that bombed homes in his village. According to Medina, 18 civilians died in the attack. Medina says he is afraid to return to his village because of constant warfare between the army and guerrillas. He says both sides suspect villagers of supporting the other side. He traveled north, made his way into Mexico, crossed the U.S. border illegally, and asked for asylum.

Case #3: Vincente Osorio
Osorio is a Guatemalan street cleaner and union member. He participated in a strike over wages that the government declared to be illegal. When Osorio and his co-workers were fired, Osorio's union began a campaign criticizing the government. Several union members disappeared and later turned up dead. When Osorio received death threats, he and his wife illegally immigrated to the United States. Soon after their arrival, Osorio's wife gave birth to a child who automatically became an American citizen. Osorio's initial claim for asylum was denied on the grounds that his dispute with the Guatemalan government was basically economic.

Case #4: Hua Wang
Hua Wang, 28, flew to the United States from China on a temporary visa and asked for asylum. In China, officials had forced her to have an abortion when they discovered that she was pregnant. (Wang already had a daughter, and under China's strict family planning law, every family is allowed just one child.) She fled because she feared that officials might force her to be sterilized.

Case #5: Kasif Hamid
Hamid, age 24, is from Pakistan. He fled Pakistan because his father found out that he is a homosexual. His father told him to leave the house and the country. He said if he ever saw him again he would kill him or turn him in to the police. Pakistan outlaws homosexuality and punishes those convicted of it severely.